Welcome to Women's Pavilion
Our professional staff wants to be your health partner during every phase of your life. We are here to help you eat well and exercise regularly, to help you plan your family and have your babies, to prevent disease, and to help you age healthfully & beautifully. You and your good health matter to us.
NOW ACCEPTING NEW PATIENTS
CALL: 559.684.4530
Quality Gynecology Care    
We provide a full spectrum of gynecological care to women. We are dedicated to meeting the health care needs of women of all ages.
• Breast Cancer Screening
• Ovarian Cancer Screening
• STD Screening
• Birth Control/Contraception/Family Planning
• Colposcopy
• Hormonal Replacement
• Menopausal Counseling
• Urinary Incontinence Treatment
•  Well-Woman gynecological care including: routine annual exams and Pap smears
Quality Obstetrics Care
Women's Pavilion & HCCA/Tulare Regional Medical Center's team of obstetric doctors and nurses are experts at new beginnings.  We are a proven resource for mothers and their growing families.
• New! Centering Pregnancy. The only Centering Pregnancy program in the Central Valley
• Free Childbirth Preparation Classes
• Free Breastfeeding Classes
• Tulare County's only weekly Breastfeeding Support Group
• Hospital Stork Tours
• Baby Friendly environment
• Free Education Classes for the entire family
• Free Evolutions Fitness & Wellness Center membership during the course of your pregnancy
• Free Onsite child care during clinic & gym visits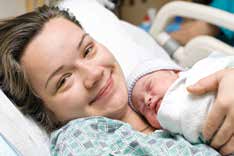 Important Maternity Phone Numbers:
Women's Pavilion | 559.684.4530
Stork Tours | 559.688.0821 ext 3590
Childbirth Classes | 559.685.3404
Breastfeeding Support | 559.685.4504
Newborn Nursery | 559.685.3492
Maternity/Postpartum | 559.685.3491